11:10 PM | Saturday, January 01, 2005
I'm finally doing this.
The one I did last night disappeared.. *stupid exlorer.* Anyway, I'm making this equally long and I'd better finish better the first day of the year ends. Yes, this is my
First Day of the Year Obligatory Post
.
----------------
1. What did you do in 2004 that you'd never done before?
I'd have to say the most memorable ones are.. falling in love with photography, organizing college events, going away with friends for more than 2 days with my parents approval even if it's not school-related, losing my phone (*sniff*)...
2. Did you keep your new years' resolutions, and will you make more for next year?
I always start the year with resolutions, then I forget about then a few months later.
3. Did anyone close to you give birth?
My cousin Manang Anna did. :)
4. Did anyone close to you die?
Thankfully not. I don't really know how to react to these things.
5. What countries did you visit?
None this year.
6. What would you like to have in 2005 that you lacked in 2004?
More cash. More time. More sleep. More peace.
7. What date from 2004 will remain etched upon your memory, and why?
As cheesy as it may seem to you guys, Feb. 14, 2004 will forever be remembered. Who can forget a day that your boyfriend cooks for you complete with a candle-lit ambiance..
8. What was your biggest achievement of the year?
Thanks to the Student Council, my inner self is pleased. And, the parade. mermaid anyone? :)
9. What was your biggest failure?
PROCRASTINATION
10. Did you suffer illness or injury?
They still havn't found the cure for the common cold.. WHICH I GET EVERY MORNING.
11. What was the best thing you bought?
My Christmas gift for Dino.
12. Whose behavior merited celebration?
hmmm...
13. Whose behaviour appalled you and made you depressed?
This would have to be mine..
14. Where did most of your money go?
Plates (schoolwork), food, materials..
15. What did you get really, really, really excited about?
The Incubus Concert. *grin*
16. What song will always remind you of 2004?
Incubus crow left of the murder, Rivermaya, Bamboo, Session Road, Parokya ni Edgar Inuman Sessions..
17. Compared to this time last year, are you:
i. happier or sadder? happ-ey
ii. thinner or fatter? CHUBBY as always
iii. richer or poorer? Poo.
18. What do you wish you'd done more of?
Relax..
19. What do you wish you'd done less of?
Procrastinate.
20. How will you be spending Christmas?
We already did. It was cool. There were less of us tho. :(
22. Did you fall in love in 2004?
Still am. :)
23. How many one-night stands?
Zilch.
24. What was your favourite TV program?
Will & Grace, Nip/tuck, Charmed, CSI, Discovey, Animal Planet, Disney..
25. Do you hate anyone now that you didn't hate this time last year?
Naaaaah..
26. What was the best book you read?
Da Vinci Code (movie is comin' out soon..), HP5, Chronicles or narnia, Teen Angst..
27. What was your greatest musical discovery?
No matter how hard I try, I am not musically inclined.
28. What did you want and get?
Cash.. Love. :)
29. What did you want and not get?
Some million dollars..
30. Favorite film of this year?
50 First dates, Eternal Sunshine of The Spotless Mind..
31. What did you do on your birthday, and how old were you?
Didn't do nothin. Turned 20. *blech*
32. What one thing would have made your year immeasurably more satisfying?
Getting some million dollars
33. How would you describe your personal fashion concept in 2004?
Jeans, tee, dirty worn out chucks..
34. What kept you sane?
Dino. Friends. Love.
35. Which celebrity/public figure did you fancy the most?
Nona.
36. What political issue stirred you the most?
Elections. *shudder*
37. Who did you miss?
Cham. Beans. Reina. Cawhitt. Nades. Maan. Misty. .. *must I name everyone? this just makes me sadder.*
38. Who was the best new person you met?
Karla is cool. :)
39. Tell us a valuable life lesson you learned in 2004.
Friendship is important. What's more important is accepting yourself. And procrastinating makes everything worse for everyone!
40. Will you miss 2004
Yup, but we must move on. This is another begininng..
----------------
Probably my favorite photographs I've taken this year: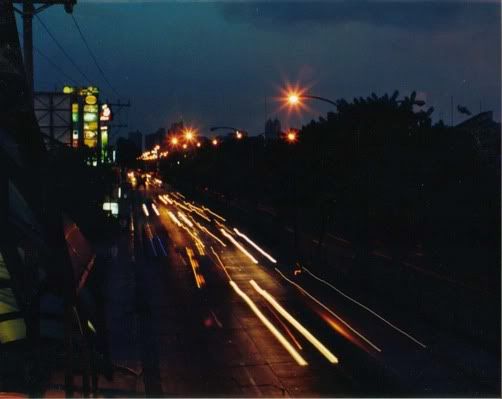 ----------------
My best discoveries this year:
1.
My Livejournal
,
My Blog
,
My Multiply account
..
2. The
Nedboarders
(Ned, ChairmanSquip, Che, Simone., LoserDude_beatSerena, Serena, Lauren, Emo, ReaganChan, spool, Steph, Brian.. all you guys. :)
3. Make-up isn't really bad.
4. Pink rocks.
----------------


Okay, I'm ready to welcome the New Year, now.
WELCOME 2005